What's in THIS box??!!
by Bill Cable
on 2023-08-23, 09:22:43
I'm here today with another "What's in the box" unboxing! This time I promise you it's not a box of loose figures. In fact, this is my biggest eBay score in years!
This box arrived last Friday. We were planning on going out to dinner with our daughter for the last time before dropping her off for her senior year of college, so I was just hoping the mailman would be by before I was done with work. Thankfully he arrived around 3PM, and the box looked undamaged. I was super excited to slice that baby open and see what was inside...
That's right - it's ANOTHER BOX! Thanks for visiting CreatureCantina.com and we'll see you next week!
Ok yeah... there's something inside that other box. And you know when a seller takes the care to double-box something, it's usually pretty special. Let's look inside...
The green cellophane was an interesting choice, but this is not unlike how I pack my Droids Customs, so thumbs up to the seller on properly protecting this gem. Clearly this is a SW carded 3PO of some sort... let's unwrap it and find out more!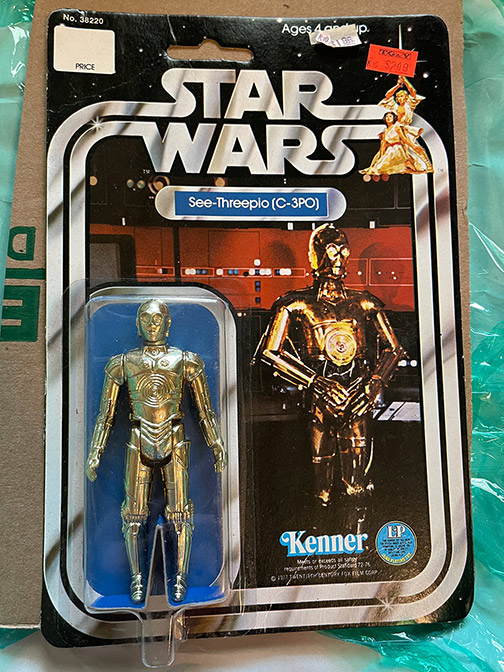 The Post-It note was actually concerningly sticky... didn't want to release off the bubble without a bit more effort than I was comfortable with. But it didn't end up damaging anything. And you'll see this is a nice-looking 12-Back in pretty decent shape.
But wait... there's more!
That's right - it's a freakin' THIRTY-TWO BACK! This is the last major US Kenner-produced MOC 3PO that is known to exist that had eluded me. (my absolute Grail, an Anakin offer sticker ROTJ C-3PO, is not known to exist)
So how did I acquire this extremely rare figure? Believe it or not, eBay! You see, I still search eBay five days a week for C-3POs. This despite the fact that I haven't purchased any 3POs at all off eBay in almost exactly two years and haven't had a significant find off eBay in almost four years. But every once in a while something like the Golden Grail pops up so I'm compelled to continue with my daily searches. And for that, I am very occasionally rewarded.
I saw the auction during my morning search on Thursday, August 10th. It already had about 6 or 7 bids and was sitting there at $58. I immediately added it to my watchlist. The next day I bid $587 as a placeholder. That high bid didn't stand long, but I was hopeful due to two things. First, it was only a 5-day auction, so maybe fewer people would see it. Second, it was set to end at 1:51AM on Tuesday morning, so maybe nobody else would be crazy enough to stay up until the wee hours so when I sniped it I'd get it at a reasonable cost.
In the last minute, I had hope! It was sitting at just over $800 with no action. But alas, a bargain was not in the cards. In the last seconds it jumped to just $50 less than the maximum I was willing to pay. Thank goodness I was still siting on a good amount of Droids Customs profits (hoping to save it for Celebration Japan). I paid a mint for the thing, but when a significant piece like this pops up what other choice does one have?
So I'm thinking I display this one on my wall backwards, since the real compelling element of the piece is the sticker. I just gotta decide what to swap out, since my shelf is full. I'm leaning towards swapping my SW12C for my new SW32. TBD!
So with this score I guess I'm doomed to searching eBay for another 4 years, just in case...