Travelling man
by Bill Cable
on 2022-08-03, 08:50:59
July was nuts. I planned to do some Star Wars travel over the summer. OSWCC was holding their 25th Anniversary Summer Social, which I didn't want to miss. PSWCS had our Summer Social near Hershey at the end of July. And then the New York club was holding their second "The Annual" in August. That 4-day event was not to be missed!
I was all settled on that, when I got an alert that my flight credits for the trip to Anaheim in 2020 would expire in September. I got those tickets cheap - only $220. And with inflation and the limited service area of Southwest Airlines, there really weren't many places I could fly that made sense... I'd pay double my "credit" just to get someplace. I was brainstorming where I'd even want to go when it dawned on me. Atlanta is the Southwest hub. Flights there are usually cheap. But then I looked and the GASWC Summer Cook-Out was slated right between OSWCC and PSWCS. Did I really want to travel 3 weekends in a row??
So I brought it up to Lynda, and she told me I should ABSOLUTELY travel 3 weekends in a row. So plans were set in motion.
I had already planned to drive with my local buddy and PSWCS.org Secretary Bill Fryer to both OSWCC and PSWCS. When I told him I was flying to Atlanta, he jumped on and booked the same flights! I was gonna be seeing a lot of this guy this month!
OSWCC was July 16th in Cincy, which was about a 5 hour drive. There was a Friday-night opener at Matt Erickson's Enchanted TK Room. I had too much fun at the Summer Social Luau! At the OSWCC Summer Social I didn't have as much fun... because I had too much fun at the Summer Social Luau. I was really hurting all day long. But I did really enjoy seeing a bunch of my buddies from my first Star Wars club, including fellow founding members Dan Flarida and John Wooten. Here's me looking decidedly pained at the fundraising auction: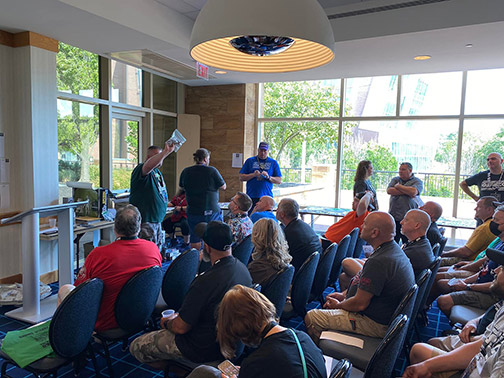 GASWC was July 23rd in Atlanta. We flew in Friday, but the flight was delayed so we didn't get there until nearly midnight and only really hung out for 30 minutes or so. Saturday morning Narayan put us to work setting up, and the day was really a lot of fun. Great times. Great people. Highlights included Narayan's salt water pool which seemed even warmer than the 95 degree air temp, watching the Star Wars Holiday Special on loop (saw Chef Gormaanda twice!), and the pool tournament. I ended up in 3rd place due to lousy luck...
Finally I had the PSWCS Summer Social on July 30th. Third weekend in a row travelling, and this time it was on me to do the driving, a 4-hour trek to Palmyra. Shouldn't have been too bad, except that at the OSWCC Summer Social my buddy Mark Schnack asked "Were you still interested in going to Rage Against the Machine July 29th?" I had told him a while back Lynda was a big fan, so I told him yes, yes I was. And man, was that an experience! He works with a vendor who owns one of the suites at PPG Paints Arena who gave him tickets, so the event was fully catered and had free booze. The music was amazing. I had more than my fill of the free drinks. The next morning I felt it even worse than I did at OSWCC.
The drive was rough. I felt wiped out all day long. It was great seeing all my PSWCS friends, but I couldn't have been much fun to hang around. I drove there and back the same day, so it was over 8 hours on the road. Just brutal. Complaints aside, it was a very well-run event, we had great turnout, and an awesome time was had by all!
I got a good night's sleep that Saturday night, and I felt surprisingly refreshed when I woke up Sunday morning. Even though I'm now fully recovered from all my adventures, I'm happy that I don't have anything planned this weekend. Time to just relax and catch up on yardwork. I have a feeling I'll need that extra energy for The Annual...