CCBC Skullbasher - On sale Wednesday!
by Bill Cable
on 2022-01-10, 10:01:34
Last week I posted a story about CreatureCantina.com founding a brewery.  It was a gag, but it wasn't entirely untrue...
On Wednesday at 9am Eastern I will be selling my first ever CCBC custom beer can.  This beer is called "Skullbasher" and features Walrusman winding up a sheet of metal to ring somebody's bell.  The package will include an empty aluminum can with a custom label and a 5.5" x 8.5" signed print of the artwork (so you can fully appreciate it while not wrapped around a cylinder). I've produced 24 cans for this run, and the cost will be $20 shipped in the USA.  They'll be $16 + shipping for international buyers.
So how did this project come about?  Well, it all started with ICE...
ICE, the International Collectors Event, is an invite-only multi-day gathering of Star Wars collectors from around the globe (at least in non-COVID days).  Collectors from Pennsylvania hosted ICE this past September, and we wanted to mark the event with a special give-away.  I, along with Mike Nair and Stu Kesilman, designed a dozen parody beer can labels, which were placed on cans and sponsored by the hosts of the event.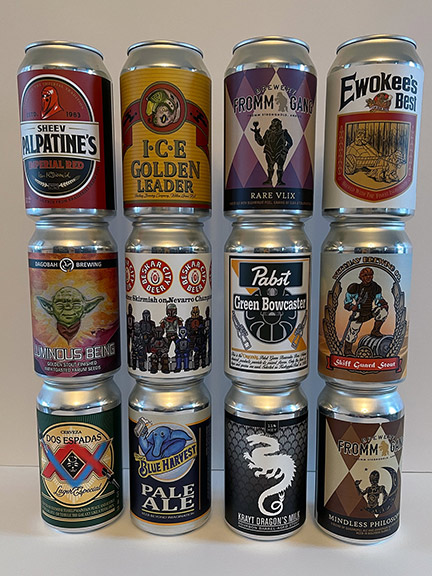 Production of the cans was a herculean effort.  We ordered in early June as soon as we decided the event would happen, with delivery scheduled for 2-3 weeks.  We found a manufacturer that would both print the labels and attach them to the cans - all we needed to do was attach the lids.  So I ordered a can seamer from Oktober LLC to do that.  It was a very expensive machine, but I looked on eBay and saw I could recover most of the cost of it by selling it used, so I went ahead and pulled the trigger.
Here's where the story gets crazy... there were delays from the manufacturer on the cans - they couldn't get a hold of the backing paper used for the label rolls.  So instead of receiving the cans 3-4 weeks before I needed to deliver them, I received them on Wednesday, and I was driving across the state Friday to deliver them.  Over the course of basically 48 hours I assembled close to 2,500 cans.  I was at it every waking moment, but I got it done before I had to leave.
The cans were a big hit, as was ICE, and I intended to sell off the seamer... but that didn't quite happen.  You see, in addition to the 2,500 labeled cans, the manufacturer sent along a batch of blanks and some extra labels, just in case we need to replace some that were damaged in the seaming process.  So I got these blank cans.  I got the machine.  I got some vinyl sticker sheets left over from my Droids R5-D4 custom.  Maybe I could make something of all these raw materials and resources?
You see, all the time I get messages from people, "I love your art but I never get a chance to buy any of it."  Usually they're asking if I'll sell a cardback-only from one of my Droids customs.  I never agree, but maybe with these cans I can reach those fans who otherwise miss out.  And I figure after 3 or 4 runs of cans I'll have the seamer machine paid off and it'll be all gravy from there.  In the end, why not give it a go and see what happens?  Worst case it fails and I sell off the seamer, just like I was going to anyway.
I hope you'll stop back here on Wednesday to snatch up a beer can. I think this could be a fun little project for me - something to do between Droids customs that'll be quick and easy. Here's hoping it's a hit!