Droids Custom Commando: Proof! (There it is)
by Bill Cable
on 2021-07-28, 07:44:57
We're in the endgame now.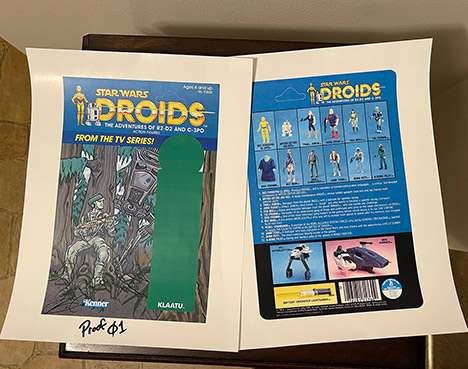 With the art complete, it was time to lay it out on my template and, play with the levels and positioning, and decide on the color for the bubble area. That's a lot of trial and error, and wastes a good number of sheets of paper, but it is what it is. Thankfully, I nailed the back on my first go. Flawless! I might actually be getting good at this.
The first proof is always something of a trial run - how do the colors look after I add a semitransparent white mask layer? How do I best scale the art to make it fit? Then I adjust from there. The second phase is repositioning, re-toning, and trying out some bubble colors.
The entirety of the art is earth tones, so I was thinking maybe use something that really contrasts. Maybe a purple. The first purple one turned out super dark, even though it was much lighter on my screen.
I wasn't sure purple would work. So I tried out the same color the Kenner ROTJ Commando used for its background. Then I tried lightening up the purple a bit, then a bit more. The third try was almost lavender, which isn't what I was going for. I wanted to try for something a bit closer to magenta, but my printer wasn't cooperating.
And then it was time to head to bed. I still think I'm gonna try for a magenta before making the final call, even though I do like how the brown background makes the figure pop. Whatever I choose, I'm hoping to assemble my customs over the weekend, since it's the only free weekend I'm gonna have for the rest of the summer. If all goes well, I'll let you know on Monday!