Quick & Dirty Review - TVC Din Djarin & Grogu Set
by Beedo Sookcool
on 2021-04-01, 07:24:12
Just in time to allow me to adequately prepare for The Big Day, a very special set arrived in the mail! Y'know, this exclusive Wal-Mart The Vintage Collection set was such a long time in arriving, I forgot I ordered it! Come to think of it, the tendency Wal-Mart has to cancel orders, apparently with random whimsy, made it kind of dicey that I'd get it, anyway.
But get it, I did, and I'm going to regale you about it . . . but before we get into the set itself, let's discuss the bantha in the room.
WAL-MART'S PACKING: Doubtless, you have read and seen -- and possibly personally lived -- the horror stories of Wal-Mart orders showing up badly packed and horribly mangled: boxes crushed, cards bent and folded, bubbles crumpled, accessories popped out or missing, or crammed into flimsy bubble-mailers. Happily, my Din 'n' Grogu set arrived beautifully packed in an adequately-sized box, with loads of padding, and looked like it came fresh from the factory, untouched by human hands. Huzzah! I have read similar reports from others in various collector groups, and seen photos from still others who were not so fortunate. This set was apparently supposed to come with a pin, and I didn't get one . . . and nor did many others, going by the complaints on the collector boards. Enh, I'm not really a Pin Guy, anyway, so no biggie.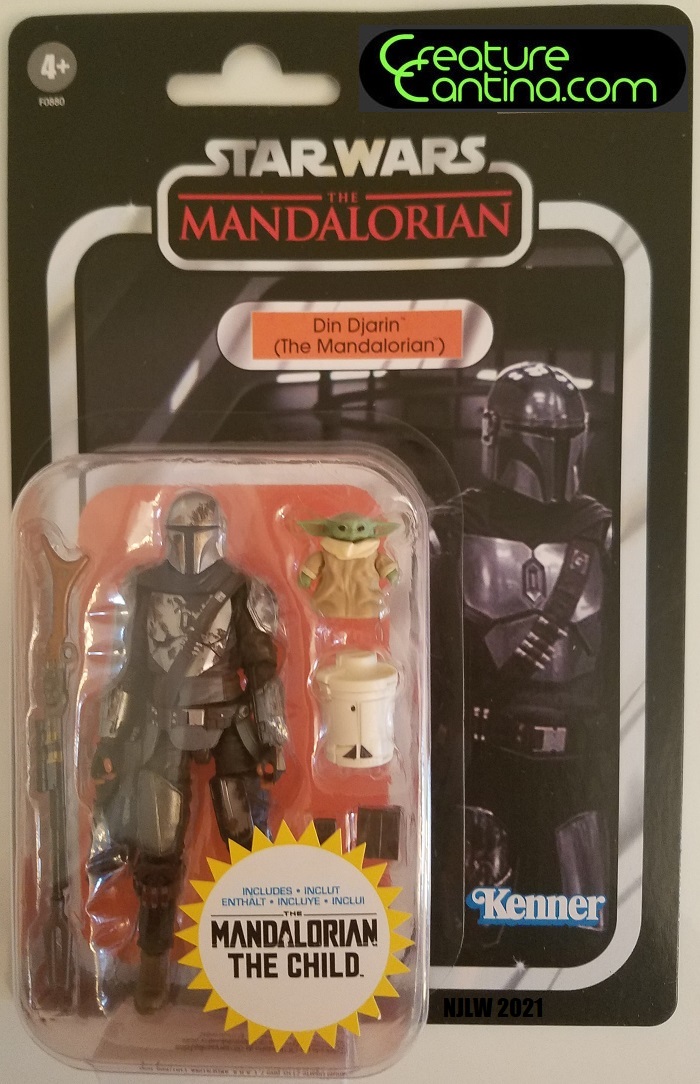 PACKAGING: Well, it's a TVC figure, so the packaging is pure nostalgia-gasm, but as with the more accessory-laden sets, the bubble takes up most of the width of the card, so the character portrait is crammed into a tiny sliver of space on the right-hand side. Surely they could've made the bubble more compact? There's a "burst sticker" on the bubble, announcing that "The Mandalorian The Child" is included. And, in a nice twist reminiscent of Tiger Toys' Doctor Claw action figure from the 1990s (but not as thorough), said burst sticker covers up his unmasked head for a little added mystery.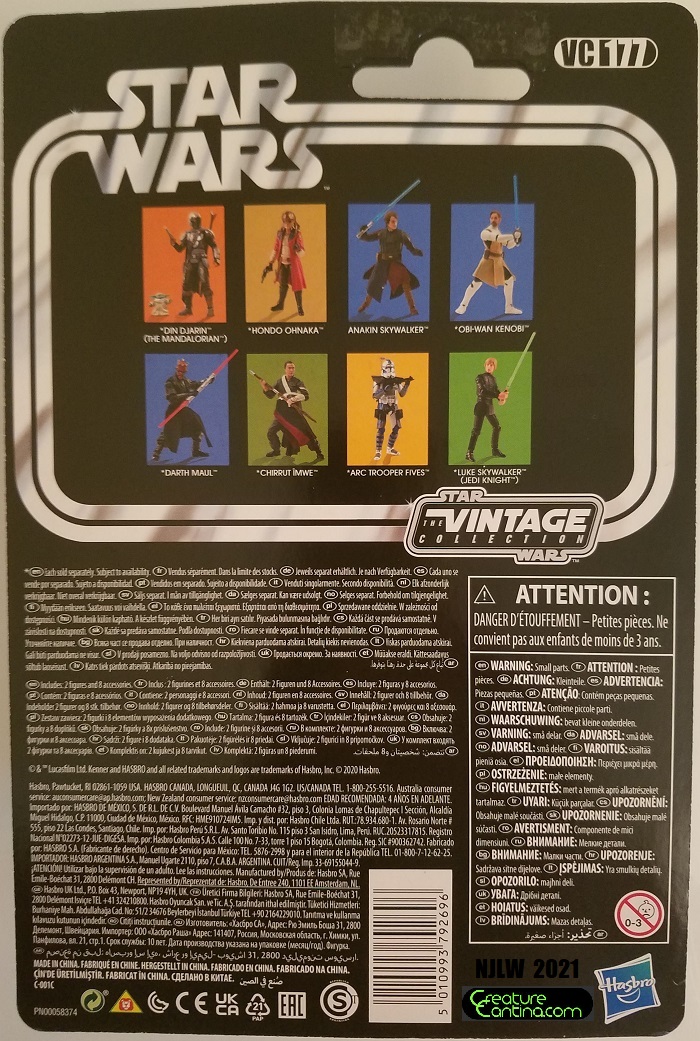 The back of the card is the usual we've come to expect from a TVC figure, with some "Buy these, too!" pictures and a dank farrik-ton of legalese fine-print.
And the "also available" figures all have an asterisk next to their names which links to an "Each sold separately" disclaimer in the legalese. Except for Clone Wars Anakin Skywalker, for some unknown reason.
THE ACCESSORIES: Disintegration rifle, blaster pistol, jetpack, cape, camtono, beskar ingots (one individual, one stack), swappable unhelmeted head.
The cape and guns, you've probably seen before in previous releases of Din Djarin, so they're no big surprise. The cape is now in black, the rifle is shinier, and the pistol is duller than the original TVC release of the character. Y'know what? I think I'm going to give the shinier pistol to the new version of Din.
The jetpack plugs into his left shoulder, to allow both cape and jetpack to be worn at the same time, though you have to budge the cape over for it to work, and the jetpack has a tendency to pop out if you jar the cape even a little. You can also still plug the rifle into his left shoulder, but not at the same time as the jetpack; it's an either/or situation, there. If he's not wearing the jetpack, though, the cape will cover the hole it plugs into nicely.
The camtono opens, it can hold the beskar ingots, and can be carried around by the handle in the top. Very nice touch, there! The ingots are tiny and will probably be easily lost if you're not careful. I had a Ziploc bag on standby for as soon as I finished the photo-shoot. And, after a couple of weeks, I found out that the single beskar ingot can fall out of the camtono through the handle-holes at the top. Good thing I had it in a Ziploc bag!
THE FIGURE(S): You get Din Djarin, of course, in his new-but-slightly-besmirched beskar armour, with oodles of the usual TVC articulation. Some of his joints are frighteningly tight, others are somewhat loose, a few of them are just right. [ SIGH ]
He's also got that nifty mudhorn signet on his right pauldron!
And here are some comparison shots of this new Mando (on the left of the shots below) with the original-release TVC Mando (on the right of the shots below):
At first glance, you'd think he's just a recoloured VC166 "The Mandalorian," but he's got quite a few new parts, mostly for his upgraded armour, but also . . .
. . . the new swappable unmasked head is a pretty darned good likeness of Pedro Pascal.
Grogu is the second figure in the set. He is miniscule and adorable, as you would expect, and get this . . . he's barely bigger than a fingernail, but he has articulation! Teensy little ball-and-socket arms and a tiny little ball-and-socket head! Jaw-dropping! Not only that, look at the DETAIL on that little guy! They even sculpted and painted his feet! A word of warning, though: if you're not careful, you can pop his arms out of their widdle sockets, and they are unnervingly tiny and easy-to-lose, so be careful! I've also read reports that some people are getting sets that contain a Grogu which has a peg-hole in the bottom of one of his feet. Variant hunters take note!
And I discovered something nifty while fixing some of my wife's jewelry a couple of weeks ago. Those little dangly balls at the end of replacement earring hooks? Take one off the wire, and it makes a perfect control knob for Grogu to play with!
THE VERDICT: This is an absolutely outstanding set, and astonishingly good value for money, even if they forgot to pack your pin in with it. Really, the only feasible way this set could've been better is if they'd included the hover-pram, but you can get that in with the separete TVC Grogu figure. This set gets my highest recommendation! Even if they don't pack a pin in with it . . . Wal-Mart!