D23 (Friday)
by Darth Danno
on 2019-09-11, 06:49:01
So Friday morning, we were scanned in while still outside, then were put in lines, waiting for the con to open at 9 am. As we had a signing at 10:30, we were allowed to get into the building and line up just outside the main hall. Once 9:00 came, our first stop was the Disney+ booth where we were able to sign up for the service for 3 years at a special rate for D23 members and their guests.
Then we headed over to "Talent Central" for our first and only signing of the con. For those of you who don't know, Asher Angel played Billy Batson in the "Shazam" movie. Now you were not allowed to bring anything for the celebs to sign, they only signed these white cards that were a little bigger in size than postcards.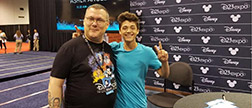 After that, we had time to walk around a little more before our first panel of the con: "The Music & Sounds of Star Wars Galaxy's Edge", which started at 12:30. It was really interesting hearing all the guests talk about all the sounds and music you'd hear once you stepped into Black Spire Outpost, and at the end, everyone got a card that had a QR code on the back to be able to download some of the cantina music from Oga's cantina.
The previous panel ended at 1:30, so we had to rush upstairs in order to get to the "Vader Immortal: A Star Wars VR Series - Episode II First Look" panel, which started at 2:00. Got to see a little or the preliminary workings of the second part, as well as some concept sketches of, let's just say..."things to come". I actually got to meet Matt Martin and Justin Bolger at the panel and at the end of it, all atrendees were each handed an exclusive pin.
The 4:00 giveaway of the Pixar ball was a madhouse, and it wasn't made perfectly clear to everyone in line that this was by "reservation only". Those that did not have reservations and who were asked to leave were none too happy about it.
Still having time in the day, I stopped by the Disney Music Emporium and picked up the 2 newest Star Wars vinyl albums they had. One was a picture disc that had the music of "Galaxy's Edge" by John Williams, the other record was in the shape of a Porg and featured two essential tracks from the film, "The Rebellion is Reborn" and "Canto Bight". We stopped and checked out the Lucasfilm and Marvel booths, then as we were heading outside to see the D23 Expo Cosplay Photo Shoot: Star Wars cosplay, I ran into none other than David Collins! He was super nice and chatted with us for a bit, then we headed out to check out the cosplay. I took a couple pics there, then headed back to the Hilton.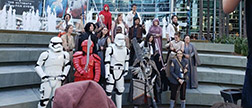 That night in our hotel room, I saw someone had posted on Twitter that the 10:00 am Saturday panel: "Go Behind the Scenes with the Walt Disney Studios" was where we would be able to see the new trailer for "The Rise of Skywalker". Now we didn't have reservations for this one, so we were going to have to try our luck and see if we could somehow, someway, still get into it, even with this being the most sought-after Saturday panel at D23.